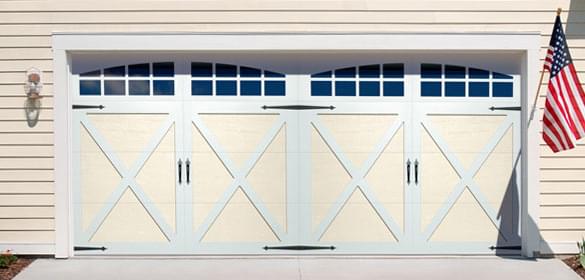 Solved the Problem
Bill came promptly, fixed a support beam, then reinforced two panels with a brace. This gives me a year or two to save up for a new garage door! Won't use anybody but Habpro.

Bill and Ethan were great!
We got three bids for replacing our 30 year old garage door. Habpro was reasonable and the most responsive company so we decided to get our door from Habpro. Bill came out and measured, he was very knowledgeable and helpful. Ethan and his son did a nice job with the installation and cleaned everything up. We will definitely recommend them on our nhood web site.

Great Service! Thank You!
Our garage door stopped working in the evening. We searched on the web and several repair shops came up. After making several calls, we decided to use Habpro, and we're so glad we did. Bill is knowledgeable and responds quickly. He sent his technician (Ethan) first thing the following morning. He came within the time window that was agreed upon, got the job done cheerfully and also showed us some basics and what to look for in the future to prevent problems. Habpro has been a great pleasure to work with. I would recommend them to friends and family.

Happy Customer
I have had issues with our garage door ever since the house was built. Of course considering myself a somewhat 'handyman', I made several 'repairs' over the last couple of years. Well the pulley on the right hand side was just killing me. The cable would jump off and the door would get hung. I would fix both only to have it happen again is a short period of time. Tired of this but not knowing of any garage door repair men personally, I started doing the internet search and reading reviews. Habpro was local and the reviews all appears positive and so I decided to take a chance. Good choice. Bob came out and went through the door and made several changes, none of which were major, but together the door now works great! I am very happy I chose Habpro and if (when) I need help in the future I know how to call.

Very Helpful
When you want a business to assist you with home projects HABPRO is the best. The technicians were very knowledgeable and eager to answer any questions. They were prompt and completed the job quickly and efficiently. I would recommend that you call HABPRO first and save yourself the time call others.
These reviews represent but a few of our satisfied customers.
Check out our Kudzu profile for more ratings and reviews.